Do you wish to bring everyone in your small team together? Nothing beats a huddle room when it comes to maximizing collaborative behaviour among team members.
Huddle rooms not only encourage collaboration, but are also a great way of maximizing the office floor plan. These small-sized hubs are perfect for pulling a small team together and promoting greater productivity in countless ways.
Why is there a sudden shift from expansive meeting spaces to smaller, huddle rooms? Why are companies trending to small hubs? Our top four reasons are;
Huddle Rooms Foster Team Spirit
A huddle room offers creative space for collaboration. There is no requirement for advanced planning or numerous participants.  Teams are able to meet and exchange views in cozier settings.
Studies have shown that open floor plans reduce productivity and increase the number of days employees call in sick. On the other hand, Activity Based Workspaces can eliminate these productivity-related issues and foster team companionship.
Encourage Active Participation
Huddle rooms ensure equal participation by providing a more intimate setting where every individual speaks and feels freer to present his ideas, which is beneficial both for the individual and the company. Sitting around a long table, with project managers and leaders can be nerve-racking. Whereas, a smaller huddle room neutralizes this fear and boosts confidence.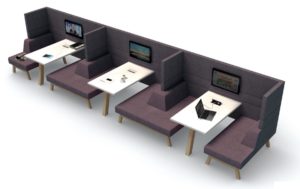 Improve efficiency
Huddle spaces are a form of Activity Based Working environments, creating a space where people can connect more easily A smaller team, sitting close together, has more potential to tap into important points, swiftly and easily. This will speed up project handling and guarantee that everyone is left on the same page.
AV technology
Huddle spaces include fully integrated AV technology including monitors to enable interactive display technology which is known to enhance presentation quality. The AV equipment offers options to connect with and collaborate with people externally easily. Further the size of huddle space means they are generally more economical to set up and require less powerful equipment.