Syndey's best coworking spaces: In the high tech world of today's startups, owners basically have three choices when it comes to workspace in Sydney: They can work from home, out of a cluttered home office full of distractions, they can hire and expensive office space that must be serviced periodically and cleaned constantly, or they can go with a much more sensible option, the coworking space. A coworking space gives companies all the benefits of an open office space, with none of the responsibility. They simply decide how many desks they need and how long they will need them, agree to a payment plan, and they've got their space.
Now Sydney will benefit from a massive new business start-up hub an 11 floor coworking complex that will cover over 17000 square metres, the first of its kind. The NSW government has contributed an unprecedented $35 million towards the new hub, the first of its kind, providing new coworking space roughly equivalent to the size of Sydney Cricket Ground. The hub will be located downtown at 11-31 York St, and has already partnered with 4 of our top ten, Stone and Chalk, Fishburners, Tank Stream Labs and The Studio.
We reviewed over 30 different coworker spaces in Sydney and here are our 10 favourites.
Tank Stream Labs is a coworking space conveniently located right in the heart of Sydney CBD. It has a variety of facilities available from several distinct styles of workspaces to a bar and fully equipped recreation room. Easily accessible by bus and indoor bicycle storage is available. You simply have to see the coworking space to get the full experience. It's 2500 square meters of ultra modern workspace is some of the best, most inspiring, interior architecture you'll find in Sydney's coworking spaces. Be sure to take the tour and review pricing on their website.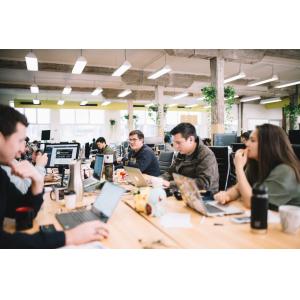 Fishburners has two Sydney locations, one at 608 Harris St and one in CBD at 17 York St. There are also locations in Brisbane and Shanghai with space available for 390 total desks, and their 5 day free trial sounds tempting. Check out their website for details and pricing.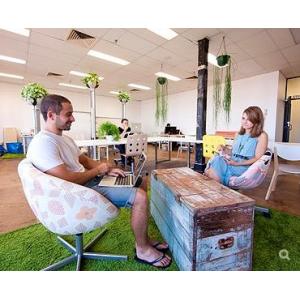 The EngineRoom is just a few minutes walk to the city at 66 Oxford St and 79 Myrtle St. Its unique interior design is sure to inspire, and you'll have plenty of like-minded coworkers to share your time with. Pricing is available on their website.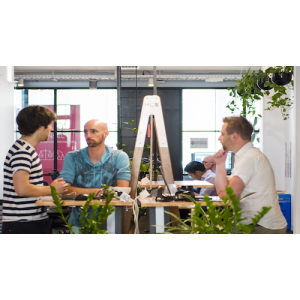 Hub Sydney is one of Hub Australia's coworking spaces, located within walking distance of the CBD, at 101 William Street in a 1920's department store. Members have access to a long list of amenities, including an onsite gym. Everything you need to know is right on the website.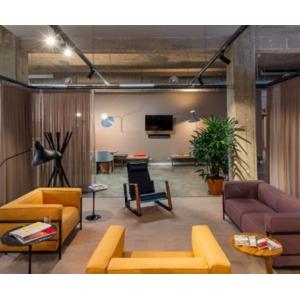 Spaces is located just 2 km from Sydney CBD at 111 Flinders Street in Surry Hills. Spaces can accommodate you with its 222 custom designed seats or one of 47 private offices. Let their website do the talking or schedule a personal tour.
Stone & Chalk at 50 Bridge St in Sydney, is immense, spanning 2 floors totalling over 4250 square metres, can accommodate up to 600 residents. A not for profit coworker space, Stone and Chalk boasts very affordable ra and you can book a day pass on their website.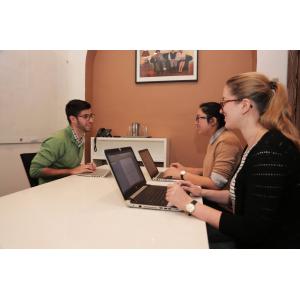 SME Village Sydney CBD, one of the smaller coworker spaces is located in the heart of the Sydney CBD at 50 York St. SME Cowork focuses on coworker spaces that offers flexibility and a range of coworker spaces. SME Village also offers event planning services, boardrooms, and offices. Inquiries and bookings can be made from their Facebook page, where you can also see what others have to say about the unique services and spaces offered.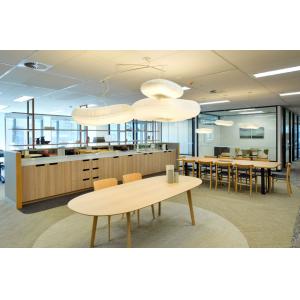 InterOffice is an airy, naturally lit, thriving coworker space at 68 Pitt St in Sydney. The InterOffice team offers a range of services, including concierge and member management, event management, and onsite IT and software support for both tenants and day to day users. Get in touch with them through their website for all the information you need and to schedule a tour.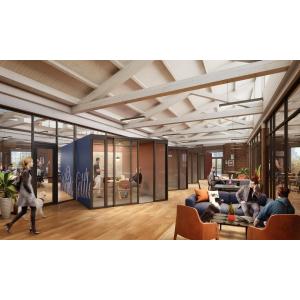 WeWork offers two convenient Sydney locations at 5 Martin Place and 333 George Street. WeWork offers the comforts of home in a coworking space and focuses efforts on bringing CEOs and users together synergistically. The Sydney locations offer a uniquely styled work environment like none other. One on three floors of the beautifully renovated 1916 "Money Box Building in Sydney's central business district. Pricing is available on the website but space is limited due to the high demand.