Description
The E-Human Chair is designed to support your entire body throughout the day. It is fully adjustable to provide personalised support to every individual. The ergonomics of this chair are essential to a healthy lifestyle. Tension control allows you to decide the kind of support you would like, ranging from rigid control to more flexible movement.
Additionally, headrests may be added to further support the neck and head.
E-Human Chair Features
Stylish, comfortable & functional mesh chair
Synchron Mechanism with tension control & 3 position locks
Standard black mesh
Gas height adjustment
Height adjustable arm
5 Star chrome base
Seat height & seat width adjustment
97% recyclable
ANSI/ BIFMA X5.1-2002 Approved
Dimensions (mm)
Height: 1150 – 1295
Depth: 700
Width: 520
Back Height: 720 – 870
Seat Height: 135 – 530
Arm Height: 635 – 825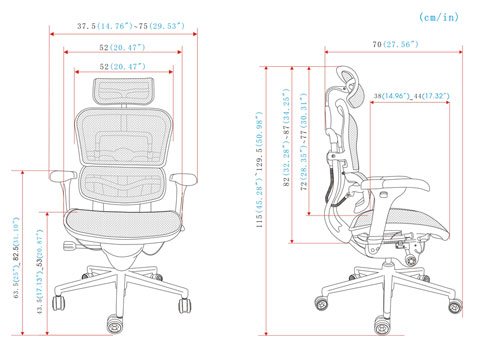 Check out our mesh chair collection to find the chairs that are right for you. We have a wide range of seats available, ranging from basic to completely adjustable. Our mesh chairs are intended to give optimal comfort and support over the course of a long workday.
If you are looking for a durable and comfortable office chair, pick E-Human!
We have a wide range of seating solutions to match any aesthetic and function needs. Contact us for more information on how we can help you best design and utilise your space.
For our other seating options, click here.