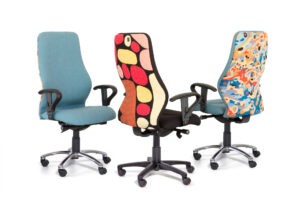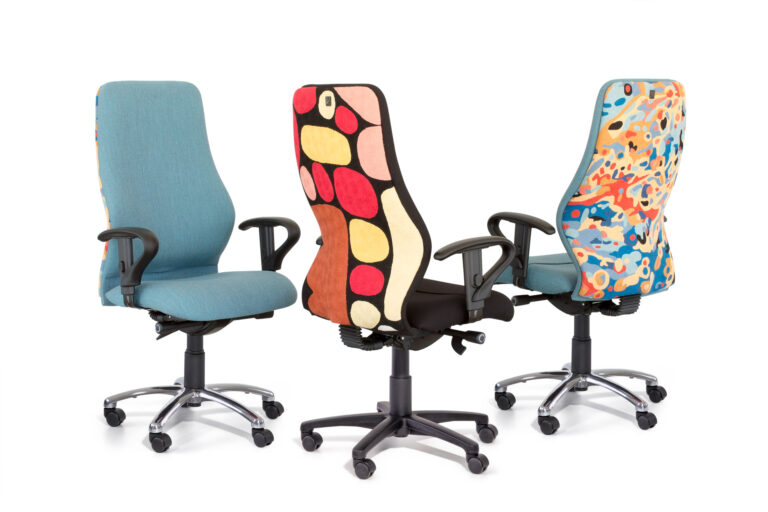 Indigenous Chair Designs
Workstations are working with Winya Indigenous Furniture to bring you all your Indigenous Furnishing needs. Contact them to help you reach your Indigenous Procurement goals
Indigenous chair designs & office furniture does that by breaking the mundanity of the office. Most of the office furniture is built and installed in colours and designs that are minimalist by nature.
Are you eager to make your office environment unique while reaching for your sustainable development goals?
It sounds like you need our fantastic exclusive indigenous design chairs for offices. These look great and are sure to impress new clients.
With lounges and visitors chairs all available, it's easy to completely kit out a reception area using our store.
The office furniture has been planned. The paint has been decided. But you feel like your office is missing something essential. Usually, the answer is a lack of personality.
You can create a picture-perfect office and yet your employees may not feel inspired throughout the day. A really simple solution to this is the usage of indigenous design.
The difference between a well-designed office and a great office is this – a great office will inspire your team to go beyond its usual limits.
Indigenous office furniture does that by breaking the mundanity of the office. Most of the office furniture is built and installed in colours and designs that are minimalist by nature.
When you add a few pieces of indigenous design to this – it brings the necessary pizzazz to the office space.
What is an indigenous design?
The indigenous design breaks the usual patterns of office interior planning. For instance – most of the offices are designed using an approach that blends only a few colours and symmetrical shapes.
While this is great for aiding basic work, it can also bring a sense of monotony to the office space. Indigenous office furniture uses a wide splash of colours and patterns that stands out from the usual furniture.
Indigenous patterns and colours add the necessary dash of freshness to your otherwise professional-looking interiors.
Where can you use the indigenous design?
Indigenous furniture can be used practically anywhere in the office. But if you use it in more public areas or in areas where you need a creative spark, it will add greater value.
You can use indigenous design and patterns to partition screens. Partition screens are the best use-case for indigenous designs because you can pull them together as per your need.
The next best way to incorporate indigenous patterns and designs into your office interior plan is by using them for lounge and seating areas.
Most of the time when your visitors come to see you and are waiting, they are not looking for a serious themed room. Hence, you can't use the interior scheme that you might use in your board-room.
For such areas, indigenous design can showcase the fact that your business employs creative-minded people who have a fun way to look at things.
Can we help you get the best possible indigenous designed furniture? We are glad you asked.
We have been helping business from several industries with different growth trajectories, get the best possible office furniture solutions.
Yes – we are in the office furniture solutions business. We understand that you can get affordable office furniture practically anywhere in Australia.
We provide a strategic perspective to your office furniture needs. We put the catalogue aside and sit with you for a free consultation session.
Here, we get to understand your business and what are the esoteric challenges you are facing. Then we integrate our indigenous design ideas to help you target these issues.
Indigenous Design Chairs That You Will Love
If you are looking for something a little different, you are going to love our selection of indigenous design chairs.
When you choose one of these chairs, you are going to be getting the best of both worlds.
What we mean by this is that you can have stylish exclusive design chairs for offices, as well as maximising comfort.
Or, you might want to look into getting a fabric room divider, which will match your indigenous design chairs wonderfully.
If your goal is to have products that look amazing and brighten up any room, that is exactly what you have found.
We have on offer a range of lounge and visitors chairs available for you, so take a look and find the one that you love.
Why Do You Need Indigenous Design Chairs?
Sometimes you go into an office, and you see that their chairs are bland and boring.
When you opt for exclusive indigenous design chairs for offices, you can be sure that nobody thinks this!
When they step into your business, they will be treated with a beautiful sight that brightens up the entire room.
They are also comfortable to sit on, meaning that your visitors are not going to have to move around every couple of minutes.
Being uncomfortable in a business office is not something that anybody wants to experience.
If you choose our exclusive indigenous design chairs for offices, comfort is not going to be an issue.
Indigenous Design Chair Options
You might be worried that you won't be able to find the indigenous design chairs for your business.
We're thrilled to say we don't think this will be an issue. We have indigenous chairs to suit every style and budget.
These chairs come in a variety of colours, shades and even materials to suit your needs.
You can also choose from a range of different shapes and sizes. No matter what area of your business you are furnishing, you'll find the right fit.
A big benefit of indigenous design chairs is bold colours and clashes. You'll find these big bold designs directly from our store.
We can even custom make chairs to suit your individual design preferences. They'll never look out of place in your company.
Are you worried these chairs won't last long? We provide multiple warranties. This means you'll have peace of mind whenever you buy.
If you have issues with rapid wear and tear, we'll provide the repair or replacement you need.
Delivery Of Your Indigenous Design Chairs
Are you looking for indigenous chairs delivered directly to your door? We provide rapid shipping across Australia.
Discover more about our indigenous design chairs right now.
We deliver across all the business centres in Australia – Sydney, Brisbane, Adelaide, Darwin, Melbourne and Brisbane. We also provide industry prominent warranties to help you focus on your business, while our furniture executes its decided job for you without any hiccups.
So, what are you waiting for? Get your free consultation session today.